• Split 7″ Pre-Order now live from Mayfly Records
• Full EP Stream on Punknews
——————————————————————————————————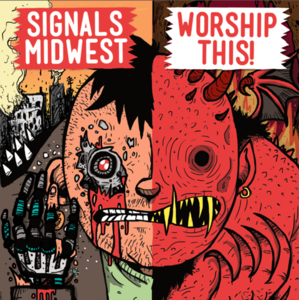 Mayfly Records is proud to announce a split release between Cleveland's Signals Midwest and Akron's Worship This!. The record includes one original track from Signals Midwest and Worship This! and then each band covering one song from the other. This first pressing is limited to 500 (350 translucent red, 150 puke). Artwork by Jason Lubrano (Iron Chic) of Righteous Indignation. This is a split release with Team Beard Records.
You can stream the split EP in its entirety exclusively on Punknews.org right now.
TRACK LISTING
——————————————————————————————————
01. Signals Midwest – Caricature
02. Signals Midwest – Astronaut (Worship This! cover)
03. Worship This! – Kalamazilla
04. Worship This! – Quiet Persuader (Signals Midwest cover)
Both bands have recently finished recording full lengths to be released in 2013, Signals Midwest on Tiny Engines and Worship This! on the newly reformed A-F Records.
Mayfly Records
Mayfly Store
Mayfly Facebook
Mayfly Bandcamp
Mayfly Tumblr
Mayfly Twitter